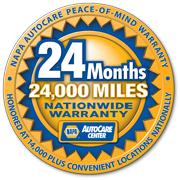 The NAPA AutoCare Peace of Mind Warranty
Covers Parts and Labor on Qualifying Repairs and Services for 24 Months/24,000 Miles.

There's no greater peace of mind than knowing you have one less worry by having your vehicles serviced by the professionals at your local NAPA AutoCare Center. They stand behind their work with the NAPA AutoCare Peace of Mind Warranty.

It's a written warranty that is honored at more than 14,000 locations nationwide - more than any other automotive repair brand.

So - no matter where your travels take you - if you ever experience a problem with a covered repair, you can count on a NAPA AutoCare Center being nearby.



What are the Benefits to You?
Included FREE with your qualifying repair or service work.
Covers parts and labor on qualifying repairs and services for 24 months/24,000 miles.
Extend your coverage to 36 months/36,000 miles when you use your NAPA AutoCare EasyPay Credit Card (applications available at participating locations).
Honored nationwide by thousands of NAPA AutoCare Centers, so you're protected even when you travel.
1-800-LET-NAPA (538-6272)
What our clients are saying about us
We have established longterm and stable partnerships with various clients thanks to our excellence in solving their automotive needs!
More Reviews

I've visited this business several times for regular maintenance and repair. The service has always been fantastic. The wonderful woman in the office is friendly, knowledgeable, and very easy to work with. The mechanics are thorough, extremely knowledgeable, and straight forward without trying to up-sell you at every turn. This is the type of garage I grew up around. The money seems to go toward hiring highly qualified people, and not toward making the garage look trendy or sporty. If my mom lived in this area, Auto Performance Center is where her car would go. I can't give any higher praise than that.

Best Auto Repair
Garner, North Carolina
Great service! I've been a few times now and they've been incredibly friendly each time. They have been very helpful; they fixed a check engine issue for a fair price. They're also very quick with the repairs. They diagnosed my check engine issue and fixed it that same day. I also had them look into another problem that my car has been having, and even though we haven't found a definitive answer, I greatly appreciate that they were willing to look at it as much and as in-depth as they did. They're great mechanics and don't give false info - other shops before them had diagnosed my car incorrectly, but once they looked at it, my issues were actually getting fixed. I definitely intend to keep using their services and highly recommend them to others. Update 6/16: I wanted to add to this about the issue we were unsure of - turns out it was as simple as replacing the gas cap, which they managed to figure out and fix for me!

Highly Recommended
Garner, North Carolina